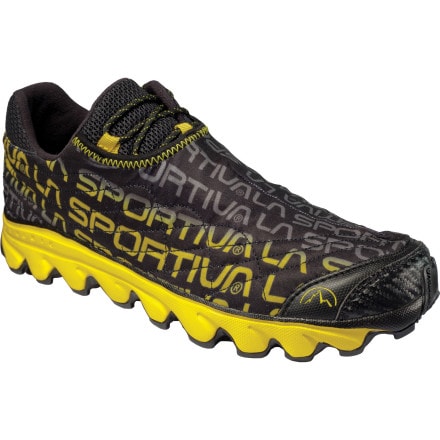 Bear with me since this is my first gear review, but I'll give it my best shot.
First off:
I've been looking forward to these shoes since iRunFar posted their first preview of the shoe last year, and I'm happily surprise to see a shoe that live up to its hype. I took them out for a 13 mile tempo workout on the local trail system, which thanks to the recent rain we've gotten allowed me to really put the shoes through their paces.
Sizing
I was lucky to snag my size for the
Vertical K
, since (online at least) they've seen a very limited release. I went with a Size 45, which length-wise is just shy of an 11.5, my usual shoe size (worn for toebox width, not length). La Sportiva is known for having overly narrow shoes, but I was pleasantly surprised with these. They are my first pair of La Sportivas so I can't speak to their other shoes, but these felt wide on the forefoot. The upper seemed to hug my foot, but I could still easily splay my toes. By looking at top profile of the shoe, you can see it has a flatter toe bumper than most shoes, immediately widening, which seems to have a fairly anatomical fit.
Upper
The upper is two-layers, Airmesh against the foot, with a Super thin nylon wrap over the shoe used as a scree guard. The tongue system is one I haven't seen before, with only one open slit, on the inside of the tongue, a little further inward than a regular shoe-tongue. This bothered me the first time I pulled on the shoes, as the tongue flipped under itself. This was easily remedied, but I don't know why they didn't just use a full foot-wrap for the tongue.
One of my favorite parts of the shoe is the structure of the support system. The looping points of the laces down the shoe double as the support, which seems to allow the upper to stretch when your foot need it, but still lock the foot in well. I was able to plant around switchbacks without my foot sliding outward. I did feel my foot slide forward a little on faster descents, but I believe that could easily be fixed by adjusting the laces before my next run.
Something I should note, that I don't like, but shouldn't be a problem for most people, is the seems on the inside. the heel cup and tong are made of a soft mesh, but the sides have subtle seems running along them. These are all the same seams you see running along the outside of the shoe. I only mention it because I like running without socks, and it might pose a problem with that, but I didn't feel any issues with regular swiftwick socks on.
I can't say much for the toe bumper. It looks and feels rugged enough to do its job, but I don't really ever kick rocks so I can't report anything.
Now for the best part of the shoe..
Sole
Photo by iRunFar
The big selling point for the Vertical K, and rightfully so, is its "Morphodynamic" sole, along with the 'FriXion' super sticky rubber outsole. Walking around on pavement, the cushion actually reminds me of Hoka One Ones (though much less). The idea behind the morphodynamic sole, and the lack of rock plate, is that the super soft midsole should absorb rocks and roots. I aims for roots and rocks on sections of my run to see how it went, and while I could feel them, it was not uncomfortable unless I caught a sharp rock in one of the cut-out sections with a thinner midsole. I felt that, for me, there was enough underfoot for most any run.
I really love the sticky rubber outsole. It really made a difference coming from the hard rubber outsole of the Saucony Peregrines (my last trail shoe), and gave me the most confidence running downhill I've ever had. The sticky rubber grabs so well that, rather than slowing nearly to a halt on switchbacks, I was able to come in full speed and simply pivot off without slipping even slightly. The sticky rubber allowed me to feel very confident jumping down rocks and roots of steep technical downhill.
The lug pattern is simple, but effective enough. This is likely due to the lugs coupled with the wavy shape of the sole. The shoe grabbed well even in mud, with just a little lateral sliding on turnover.
All in all, I love this shoe. I'm likely not going to wear it for the bulk of 100 mile training this summer, but it will most definitely be my 50(k)-and-under shoe.
5/26 Edit: I've put another couple hundred miles on these now, and I'm very please with them. They are a bit thin for super rocky runs, to where I can feel the rocks underfoot, but my feet aren't really sore after. I do most of my runs in these, and use the Salomon Speedcross 3 for really long runs or if my feet feel as if they need a rest.